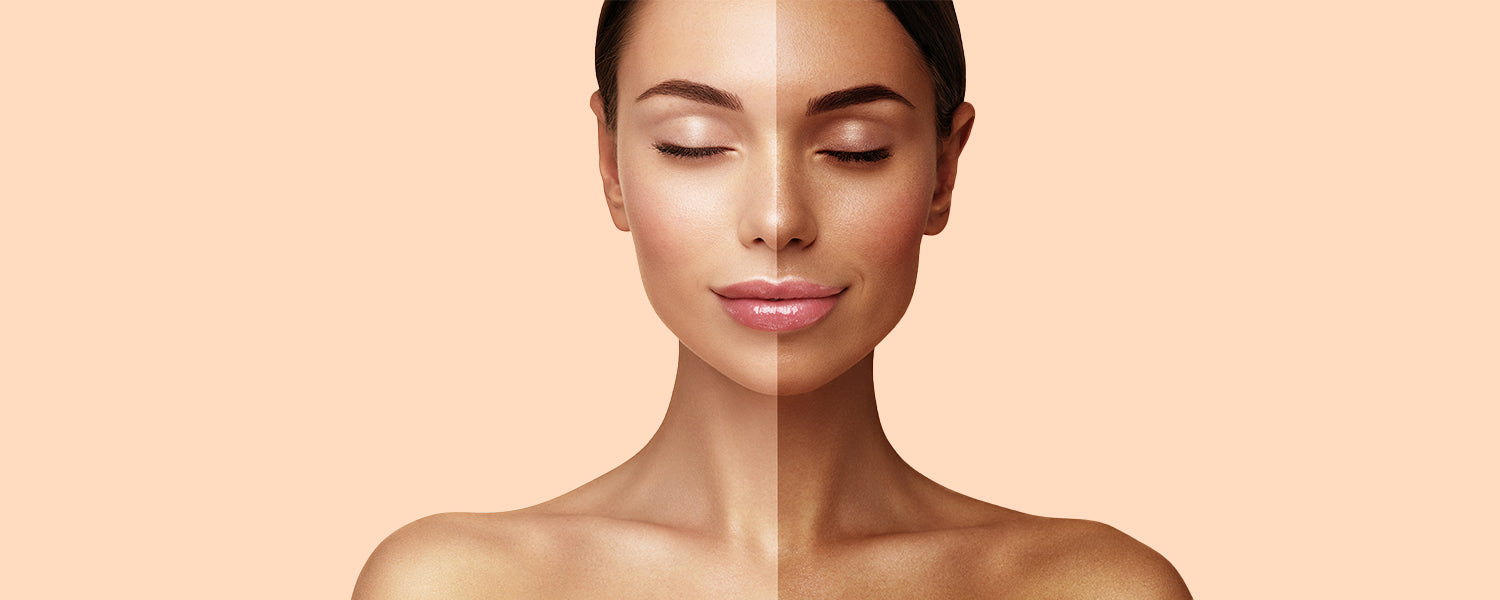 Tan is a common skin problem faced by many people especially during the summer months, and it can be particularly frustrating when you are trying to maintain a healthy and glowing complexion. Fortunately, there are many natural remedies that can help to reduce the appearance of tan and improve the overall health of your skin. 
At O3+, we create tan removal products with natural ingredients that are extremely effective on the skin giving you that lost glow. Below is the list of ingredients that are helpful in removing tan and dark spots.
List of Tan Removal Ingredients
1. Eucalyptus oil- Sunburns may cause significant pain. However, as was already said, this oil's calming composition and pain-relieving qualities could provide significant relief for sunburns and even redness. Additionally, the antimicrobial components would stop any infection from starting.
2. Mint- With extremely soothing effects on the skin, mint helps the skin relax and repair itself, which in turn brightens up your skin tone and makes your skin look healthy.
3. Blueberry- The abundance of vitamins C and E in blueberries aids in the fading of imperfections like sun spots, hyperpigmentation, and dark spots. They work as an exfoliating substance and remove any discoloration on your skin. By brightening your skin and leveling out your complexion, this eliminates any dullness.
4. Cranberry- Cranberries aid in eliminating pigmentation and leave the skin glowing and smooth because they are rich in antioxidants and have astringent characteristics.
5. Salicylic acid- A form of beta hydroxy acid (BHA) known as salicylic acid is frequently used topically. Alpha hydroxy acids (AHAs) and beta hydroxy acids are the two different forms of hydroxy acids (BHAs). AHAs' exfoliating qualities maintain smooth skin and balance out skin tone. BHAs work similarly to AHAs but also serve as antibacterial agents by deeply entering the skin and opening up the pores. Salicylic acid can therefore quickly soothe down inflamed and disturbed skin.
6. Tea Tree oil- By working on the skin's pores, tea tree oil restores the skin from tanning effects. It accomplishes this by washing the dirt from the skin's surface.
O3+ Salicylic + Adaptogen Mask for Acne Marks & Tan Removal
The O3+ Derma Cult Salicylic + Adaptogen Mask contains superior-quality BHAs and adaptogens, which are herbs that have been utilised in Ayurveda and Eastern medicine for over 5000 years. The goal of this mask is to improve the clarity and look of the skin. The benefits of Tulsi leave the skin feeling peaceful and renewed.
O3+ Cranberry D Tan Pack
The O3+ Cranberry D-Tan is enhanced with the purest form of real cranberries and whitening microbeads that lighten and brighten all types of skin while removing surface tan. effective removal of facial and body tan. This tan removal pack is created in Italy by renowned dermatologists and is used by salons across the country.
O3+ Oxy D-Tan Scrub for Blackheads 
O3+ D-Tan Scrub is a cutting-edge tan-removal scrub that aids in exfoliation and leaves skin looking even and radiant. With the goodness of tea tree and peppermint this O3+ tan removal Scrub, the skin is instantly brightened as tan is removed.
O3+ Blueberry Dtan Pack
The O3+ Blueberry D-Tan keeps the skin tight, promotes extreme whitening, and removes tans while protecting the skin from damaging free radicals. Effective elimination of tan on the body and face. With its active components, this cutting-edge professional tan remover immediately lightens and brightens the skin.
O3+ D-Tan Facial Kit With Peel Off Mask
The O3+ D-Tan Facial kit provides tanned and dull skin with an immediate boost of brightness and tan removal. By removing deep tan and sun tan, this face kit brightens, lightens, and gives the skin an instant glow. This face kit, which is enriched with substances like Shea butter, camphor, and eucalyptus, is a real delight for dull skin.
You can choose from a full line of O3+ products that can help you remove tan and reveal a radiant complexion, making the process easier for you.