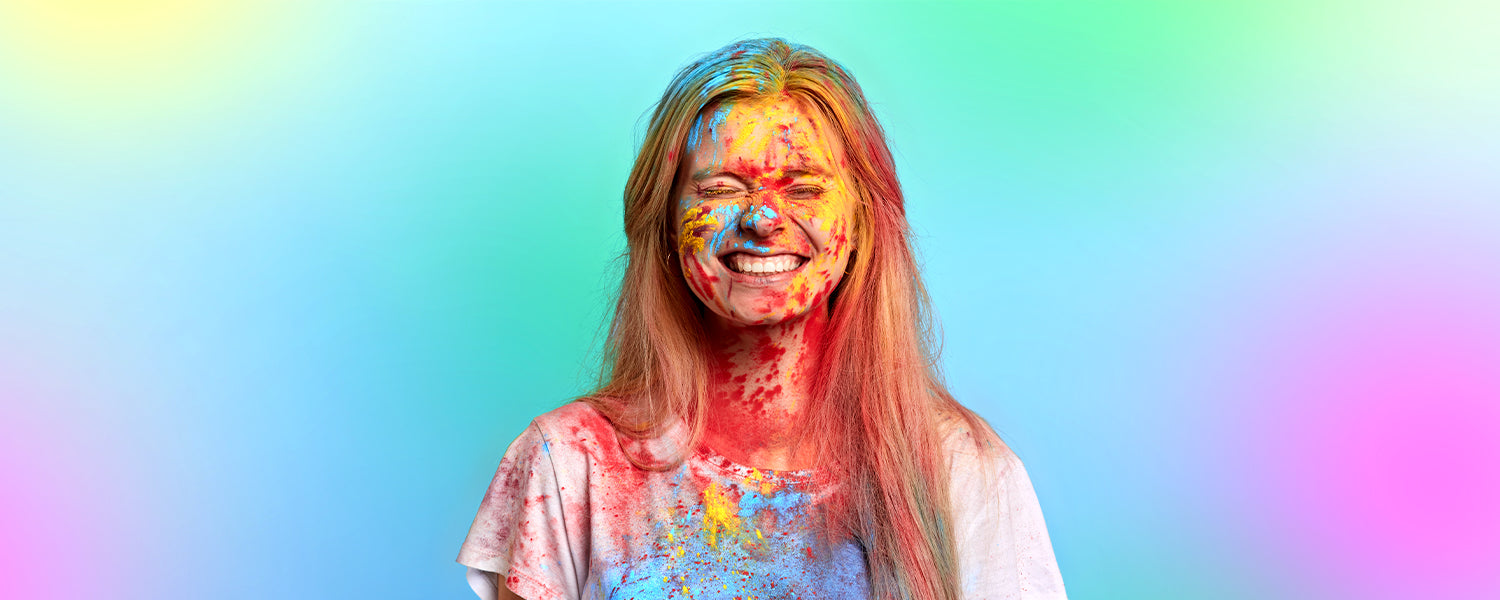 Holi is one of the most exciting festivals of the year. The colorful celebration brings with it happiness, joy, and lots of fun. However, at this time of year, our skin needs the utmost care. Your skin needs the best skincare necessities, from cleaning your face with the best cleansing lotion to applying an ultra-hydrating moisturizer. Also, you must take care of certain skincare tips for Holi both before and after.
To learn more about ways to prevent skin harm during Holi. It's important to understand how the Holi colors can damage your skin. The majority of these hues are made up of chemicals that can dry up and irritate your skin. Moreover, all of these chemicals dehydrate your skin, leaving it flaky, dry, and susceptible to acne.
As a result, you ought to attempt employing chemical-free natural colors. When celebrating Holi, it is impossible to control the colors are exposed to. Thus, always properly prep your skin before leaving the house. Holi's vibrant colors include some of the following side effects:
Rashes and a number of skin issues.

Skin cancer may be brought on by exposure to silver.

Harsh chemicals can irritate your skin and lead to dermatitis, acne, and dryness.

Excessive color use might cause skin damage that cannot be repaired.
Keeping in mind your skin issues, we at O3+, share a skincare routine for Holi that needs to be followed in 2023.
A Must-Follow Skincare Regimen Before Holi
1. Use A Quality Cleanser
After the festival, make sure to cleanse your skin thoroughly to remove all the colors. Use a good quality cleanser that suits your skin type to get rid of the colors, dirt, and grime. Avoid using hot water as it can further dry out your skin. use a cleansing face wash for dry skin, you can use O3+ Brighten Up Cleanser for that perfect glow.
Brighten Up Cleanser: This energizing facial cleanser exfoliates impurities that dull the skin while also brightening it. It exfoliates dead skin cells without drying out the skin. The skin is moisturized and rejuvenated when AHA is present. Skin becomes supple, nourished, and radiant as a result.
2. Moisturize Your Skin
Before stepping out to play Holi, make sure you moisturize your skin properly. Use a good quality moisturizer that suits your skin type. Moisturizing helps to create a protective barrier on your skin, which prevents dryness and damage from the harsh chemicals in colors. Try O3+ Triple Acid Oil-free brightening moisturizer for ultra care.
Triple Acid Oil-free Brightening Moisturizer: An oil-free moisturizer that softly hydrates the skin without making it greasy or oily is available for all skin types. It is loaded with the benefits of three different types of acids, including lactic and glycolic, as well as adaptogens that have healing properties, such as aloe vera, which rejuvenates dry, damaged skin.
3. Apply Sunscreen
Sunscreen is a must-have skincare product for Holi. The sun can cause damage to your skin, and the harsh chemicals in the colors can make it worse. Therefore, make sure to apply sunscreen with an SPF of at least 30 to protect your skin from harmful UV rays. Also, apply a generous amount of sunscreen to all exposed areas of your body, including your face, arms, and neck.
SPF 50 Anti-Oxidant Cream: Skin-brightening chemicals are used in the formulation of O3+ Agelock Antioxidant SPF 50 to offer improved complexion and UVA/UVB sun protection. This SPF is ideal for the body because it is non-greasy.
4. Exfoliate Your Skin
Exfoliation is an essential step in your pre-Holi skincare routine. Use a gentle exfoliating scrub to remove the dead skin cells and unclog your pores. You can also try our O3+ Oxy D-Tan Scrub for Blackheads.
O3+ Oxy D-Tan Scrub for Blackheads: O3+ D-Tan Scrub is a cutting-edge tan-removal scrub that aids in exfoliation and leaves skin looking even and radiant. Created with the goodness of tea tree and peppermint, this O3+ D-Tan Scrub, makes the skin bright and glowing instantly.
5. Keep Yourself Hydrated
Staying hydrated is essential for good skin health, especially during Holi. Drink plenty of water before, during, and after the festival to keep your skin hydrated and glowing. It will also help to flush out the toxins from your body.
You will look young, revitalized, and fresh by following the above-mentioned advice. You must adhere to some pre- and post-Holi skin care advice if you want to keep your skin safe throughout the festivities for Holi. Moreover, using flower petals and organic colors is always preferable. Keeping your skin safe during Holi is quite simple. You're ready to go out for Holi this year if you just follow a few skincare recommendations!
Happy Holi, in advance!