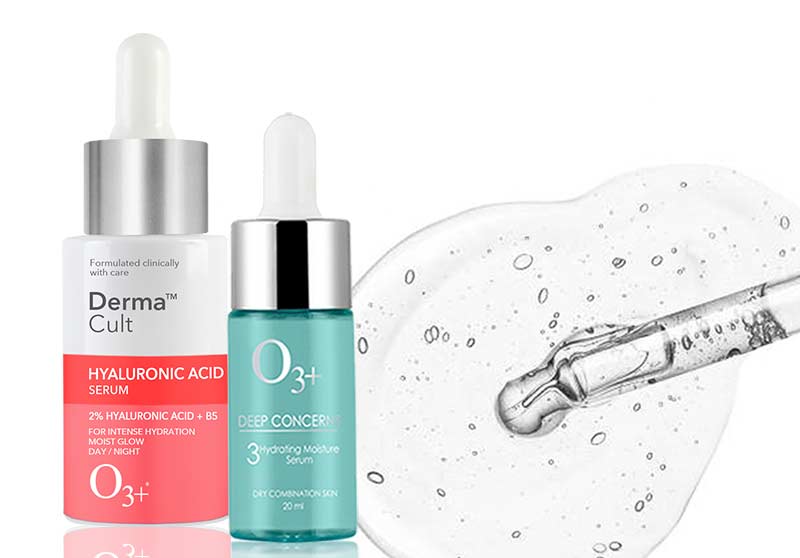 hyaluronic acidhyaluronic acid for skinhyaluronic acid skin benefitshyaluronic serum
Skin aging is a biological process that takes place with the passing of time but sometimes it can be associated with the loss of skin moisture due to environmental pollutants, extended exposure to UV radiation, and extreme weather issues.
So, in order to get back, the moisture of the skin one needs to know about Hyaluronic Acid, an essential nutrient that helps to maintain the moisture of the skin.
Have you heard of Hyaluronic acid? How does it help to get the skin elasticity and moisture back? What are its benefits & how can it be incorporated into one's skincare routine are the questions that matter. To know about the uses of Hyaluronic acid, properties and products let's read on…
What is Hyaluronic Acid?
Hyaluronic acid (HA) is the main ingredient found naturally in the body tissues and is involved in skin moisture. Its molecules absorb water and help to increase the water content of the skin, hence help in the hydration of the skin. Other than this HA also helps in other aspects like tissue repair, enhancing immune response, and also provides a framework for blood vessel formation.
But the bad news is, by the time the store of Hyaluronic acid starts declining in the body due to many reasons. But thankfully there are skincare products that feature Hyaluronic acid and help to rebuild the lost collagen and elasticity of the skin.
Key Benefits of Hyaluronic Acid
Heals Wounds- Dry and rough skin can be dangerous as it can lead to bacterial infection, acne, redness and sometimes eczema as well. With its healing powers, Hyaluronic acid helps to heal the wounds and relieves inflammation.
Keeps the Skin Hydrated- When applied on the face, the unbelievable ability of Hyaluronic Acid helps to retain the moisture, hence provides the much needed hydration to the skin.
Anti-Aging Formula- Studies say the daily usage of Hyaluronic acid nourishes your skin deeply and helps to reduce the wrinkles and keeps the skin supple, young and strong.
Smoothens the Texture of the Skin- It reduces the roughness and dryness of the skin caused by UV rays and pollutants and makes the skin smooth by increasing its elasticity.
Reduces Acid Reflux- If taken as a supplement, it helps to reduce the symptoms of acid reflux- GERD and heartburn.
Treats Vaginal Dryness- When taken with estrogen cream or even alone, the Hyaluronic acid helps to ease the vaginal dryness symptoms in women.
Skincare Products with Hyaluronic Acid and its Uses
1. O3+ Derma Cult 2% Hyaluronic Acid Serum for Intense Hydration, Finelines & Glow with B5 - When applied as a serum the Hyaluronic acid gives your skin that plump and radiating look.
O3+ Hyaluronic acid hydrating Serum for Intense Hydration is enriched with a high dosage of vitamins and minerals. This anti-age serum is suitable for normal to dry skin and gives you an instant glow.
Usage:
This Hyaluronic Acid Serum can be used by anyone above the age of 20.

Gently massage your skin using this cream for 10 to 15 minutes to get the optimal result

Use periodically for best results
2. O3+ Hyaluronic Acid Hydrating Moisture Serum- Suitable for normal to dry skin, this Hydrating Moisture Serum is enriched with high dosage of vitamins and minerals and provides instant age fight benefits. This Serum corrects up-to 11 signs of skin ageing along with youth shine & balance.
Usage: After washing the face, apply 2-3 drops of the serum on the face and massage gently till it absorbs. Follow up with night cream for a better glow.
Suitable for all skin types, Hyaluronic acid is used not only as a serum and moisturizer, but can be used in edibles, supplements as capsules and collagen shot and sometimes in injectable form as well.