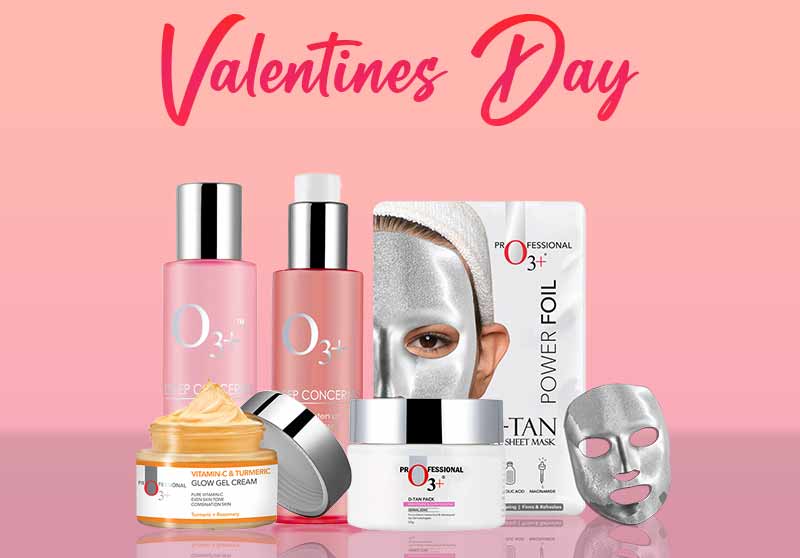 best skin care productso3+ skin careskin care productsskin care tips
Valentine's day is near the corner and everyone looks forward to living this day their best. If you already have a date for this beautiful day and want to look alluring for them, you're at the right place! Even for our single beauties, read below and find some of the best skin care tips to look pretty just for yourself. Treat yourself with your heartfelt treats, and stay with us to find some of the most amazing valentine's day skin care tips.
If yes, then here are some clear skin care tips that will gleam your valentine, we have also mentioned some of the best natural skin care products you can get today in the market.
1. Cleansing
You can use any micellar water or cleansing balm with the help of cotton pad to get rid of gunk, grime and pollutants. Cleansing helps your skin to open clogged pores and also helps absorb the products in your skin way better. 
O3+ Brighten Up Cleanser
O3+ Brighten Up Cleanser is a special skincare program for glowing skin. A unique combination of various powerful active substances brightens and rejuvenates the skin. The illuminating range also improves skin texture, giving it a visibly bright and vibrant glow. O3+ Brighten Up Cleanser is rich in vitamins C, B3 and E. This refreshing facial cleanser brightens skin and gently removes dull-looking impurities. A unique brightening formula helps exfoliate without drying out dead skin cells. The presence of AHAs hydrates and rejuvenates the skin. The result is smooth, nourishing and radiant skin. Up to 2 bright skin tones in just 4 weeks.
Start Toning Daily
After cleansing toner is the very first thing which you apply on your skin. Toner restores your skin's pH level, it also helps your skin to tighten the pores and remove any leftover impurities on your face. Use a good quality toner that will help balance the pH of your skin and make it softer and subtle. 
O3+ Brighten Up Face Toner
This Brighten Up Tonic is a very effective solution that not only minimizes discoloration, but also improves the clarity and radiance of the skin. It can also be used as an alternative to cream.
2. Exfoliate
Exfoliation is necessary for the skin as it helps unclogs pores and helps to keep your skin young, soft, and subtle for a long time. Start exporting your scan twice a week for the best results and use a mild scrub that does not irritate your skin.
O3+ Oxy D-Tan Scrub
O3 + DTan Scrub is an advanced sun removal scrub that helps exfoliate while keeping the skin even and shiny. With the goodness of Tea Tree and Peppermint O3 +, D Tan Scrub instantly gives a bright glow while removing sunburn from the skin. It is one of the best scrubs for glowing skin. It polishes your skin and cleanses deep into your pores, removes dead skin cells and removes sunburn, minimises thin lines and signs of aging, naturally moisturizes and reveals brighter skin, regenerates cells and treats acne, it has the goodness of tea tree and peppermint.
Use a Sheet Mask a Day Before
A 100 % natural face pack is made from ancient ayurvedic text which is a pure magic to the skin. Using a sheet mask weekly A weekly is ideal for refreshing dull winter skin. To rejuvenate your skin, try a face mask that contains Licorice, Glycolic Acid & Niacinamide which are some of the best nutrients for the skin.
O3+ Power Foil D-Tan Face Sheet Mask
O3 + Professional Power Foil DTan Face Mask is formulated with the goodness of licorice, glycolic acid and niacinamide. It not only heals the skin, but also has antibacterial and antioxidant effects, making it ideal for local treatment of spots and acne scars. This magic sheet mask moisturizes the skin and keeps it firm, smooth and radiant, while providing a brighter effect on the skin tone by reducing pigmented and acne rashes.
3. Moisturiser
Every skin needs a moisturiser no matter what your skin type is. Using a moisturiser you can hydrate your skin. It Will help in keeping your skin clear, smooth and wrinkles-free. Moisturising is recommended as the best skin care for skin care for dry skin.
O3+ Vitamin- C & Turmeric Glow Gel Cream
A gentle daily moisturizing glow cream containing Vitamin C and turmeric that brightens and shines the skin in just 3 days. Rich in Vitamin C, this moisturizer visibly counters the dullness caused by dark, ultra-fine spots (visible only under UV light). It shows you improvement in the skin within just 10 days! Visibly reduces pigmentation, reduces signs of skin aging, and so much more! A formula that boosts immunity, vitamin C, a powerful and stable compound with a visible whitening effect.
It has Curcuma longa that visibly brightens, evens out skin tone, reduces the appearance of pigmentation, soothes redness, protects against environmental stress, and reduces visible signs of aging. Curcuma longa is visibly brighter, evens out the skin tone, reduces the appearance of pigmented spots, is vegan, is non-abuse, and is approved by a dermatologist. A formula that reduces signs of aging visibly reduces pigmentation and boosts the immune system of your skin as a result of transformation in 10 days.
So, these are the tips which will surely help you to look alluring, and beautiful. We hope to mention some of the best products for glowing skin. Practice these steps also maintain the routine and get gorgeous skin at all types.